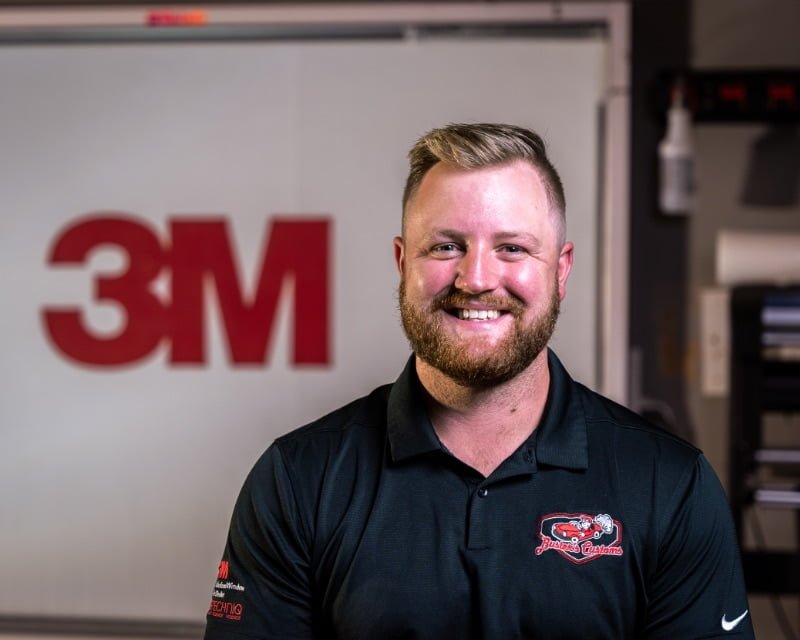 NICK MUELLER (OWNER)
Nick (Owner) has been passionate about cars from a very young age
Nick (Owner) has been passionate about cars from a very young age, it was a natural Segway into the automotive aftermarket business. He first began his career with 3M window films as a residential/commercial dealer. After a few years of this, 3M offered up their automotive services and it became fuel to a fire that was always burning. Nick began window tinting 9 years ago, Once he was able to move into a larger space; the dream became a reality. He began training with Paint protection films and then Vinyl Wrapping. After a few years of this, Busters Customs, LLC was born. Nick currently holds certifications in 3M Window Films, 3M Paint protection films and is also a 3M Preferred graphics installer.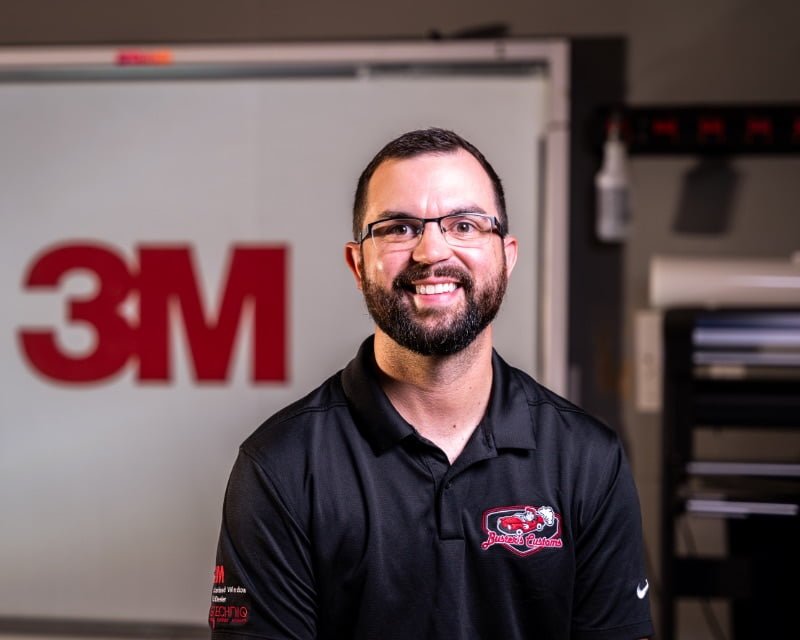 TYLER FINK (PAINT
SPECIALIST, TINT)
Tyler studied Collision repair, automotive refinishing, and custom
Tyler Fink has loved cars "ever since he could remember." After high-school, he further chased his passion for vehicles by enrolling in WyoTech's Collision Repair and Refinishing Technologies program in Sacramento, CA. There, Tyler learned the ins and outs of structural body repair and automotive refinishing. As an elective he studied "custom fabrication and painting techniques."
After returning home from WyoTech, Tyler went on to work at a very well-known collision repair facility where he painted vehicles, managed the parts department, and at the end of his tenure was front office. During his time painting, he furthered his education- ultimately becoming I-CAR Platinum II certified in Refinishing Technologies.
Tyler joined our team in 2021 to head paint corrections and ceramic coatings. His attention to detail, experience and knowledge in the refinishing world, and passion for what he does, makes him the perfect man for the job!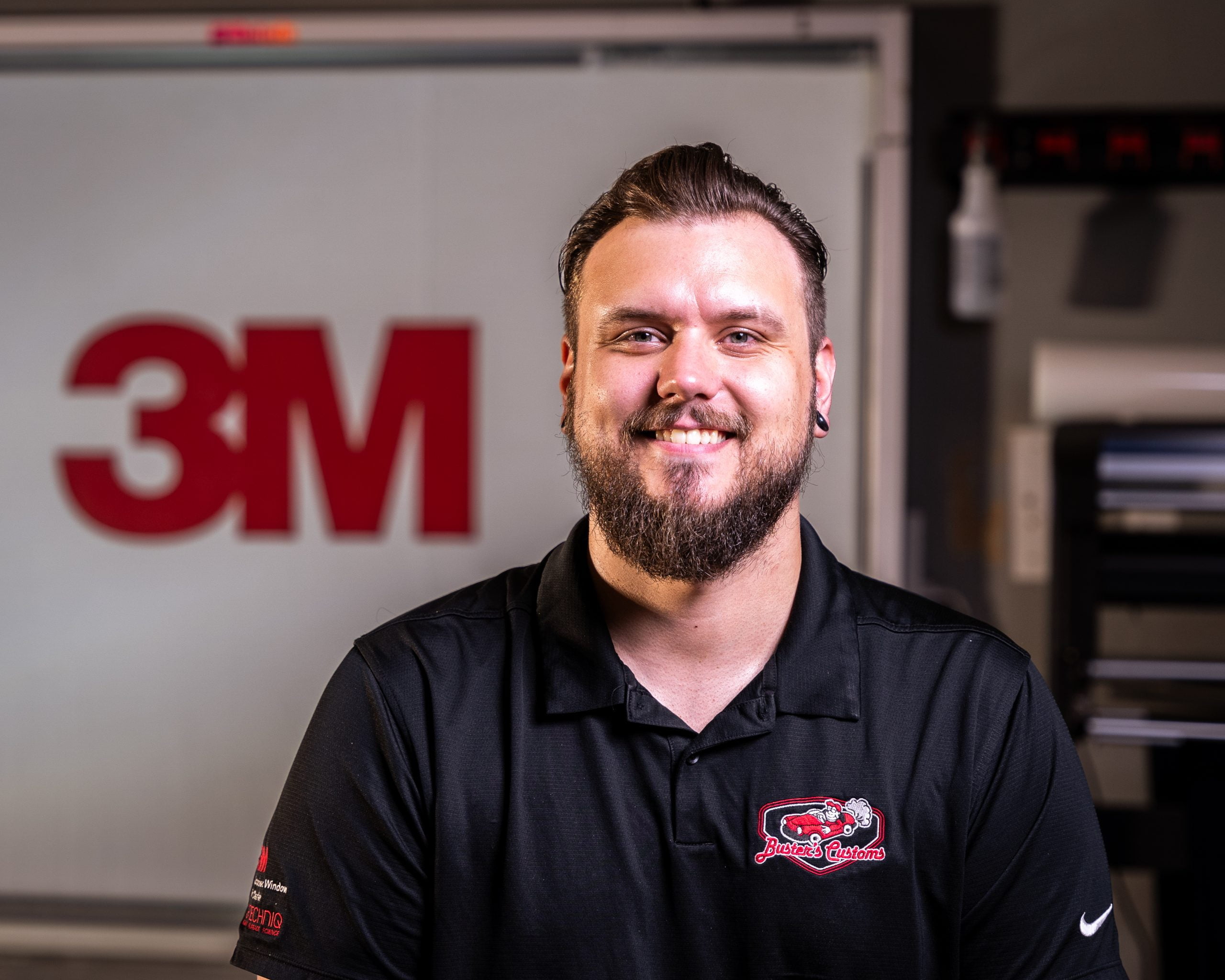 JARED HANCHETT (VINYL
WRAP, TINT)
Jared has been installing window films and vinyl wrap….
Jared Hanchett has always held automotive aftermarket close to heart. Whether it started with wrenching on his own vehicles or helping his friends. He comes from a background in parts sales with a local automotive dealership; he is VERY knowledgable in disassembly and reassembly. Jared has been installing window films and vinyl wraps for 6 years in this industry. He currently holds certifications in 3M Window Films, 3M Crystalline, and is a 3M Preferred graphics installer. He also carries a certification in 3M Di-Noc architectural finishes.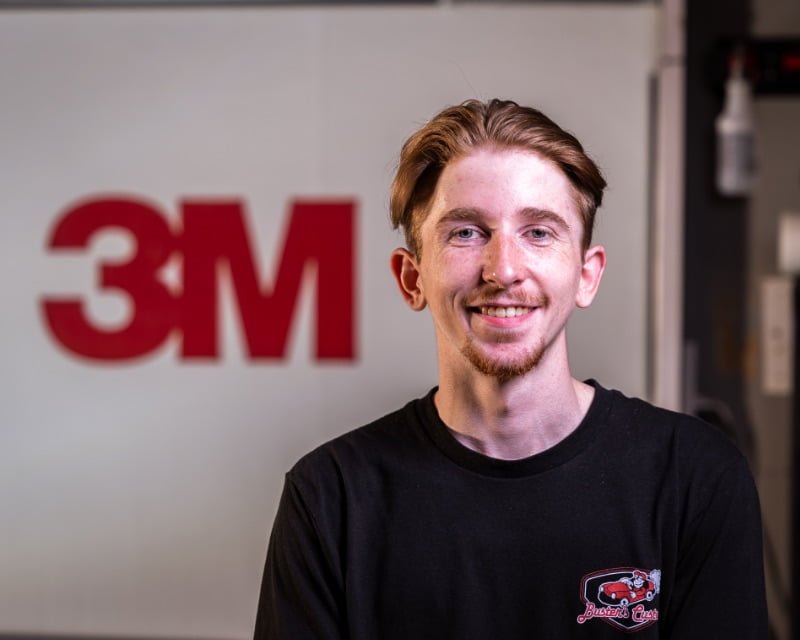 Connor Bertalan
Connor Bertalan has been with the company since 2022…
Connor Bertalan has been with the company since 2022. His passion and overall knowledge of automotive aftermarket is held high. Coming from a background of Carbon Fiber design, he has worked on many high detail projects that are world renown; one being the Enviate Hypercar. He is one of our best window tinters on staff and his attention to detail is next to incredible. Currently holding a certification with 3M Window Films and 3M Crystalline; we ensure your vehicle is in great hands.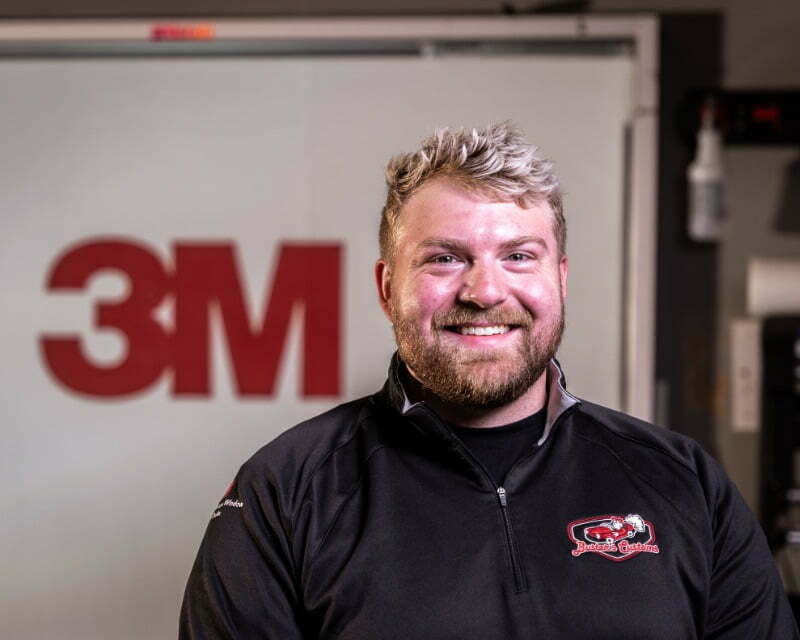 Mitchell Piersante-Horn
As an automotive enthusiast with over 5 years of experience
As an automotive enthusiast with over 5 years of experience in photography and videography, Mitchell's passion for capturing the essence of automobiles has been the driving force behind my journey. From the sleek curves of supercars to the rugged beauty of classic muscle, he has honed his skills to portray the soul of every vehicle through his lens. His love for the automotive world fuels his commitment to delivering stunning visuals that not only showcase the vehicles' allure but also evoke the excitement and thrill that comes with the automotive lifestyle. With each shot and every frame, he strives to share his enthusiasm and passion for cars, making every project a labor of love and an unforgettable experience for his clients and fellow enthusiasts alike.

Taylor Brown
Google Verified Review
Nick and his team did a fantastic job detailing my wife's Subaru. It was a mess, but after a day spent at Buster's, it came out looking absolutely brand new. Great communication and price point. The only critique I can provide is to evaluate the condition of the car, either at drop-off or via pictures beforehand, to provide an accurate estimate of the detailing, as the condition of her car required an increase to the advertised detailing rate after we dropped it off. Totally understandable, but for some, it may have been an issue. Will use Buster's again!

Jarid Lueck
Google Verified Review
I have taken 4 of my personal vehicles and my mom and grandma have all got tint done by Buster customs!! There is a reason why I have continued to come back to them. Very professional, great attention to detail and the outcome is great every time! I will recommend them to anyone who wants tint done!

Tanner Kaplan
Google Verified Review
Nick and his team did a fantastic job. They truly went above and beyond, were detailed and thorough, and did so in a timely manner. Nick and his team have my business for life. Highly recommend.

Jon
Google Verified Review
I was looking for a place to get my truck windows tinted and was given a few suggestions. Buster's Customs was very prompt in responding, giving a quote, it was easy to schedule, they answered questions and overall just had good communication. EVERYONE I had interaction with there was friendly, professional, and helpful. I am VERY happy with how everything turned out on the truck and so glad I went with Buster's Customs to do it. If you are looking to get any of Buster's Customs services, you are in great hands.

Matt Viper
Google Verified Review
The tint on the truck came out perfect. All the vehicles I've had tinted at Buster's Customs have been flawless. Keep up the great work!

Trevor Shaffer
Google Verified Review
Busters Custom did an amazing job on my vehicle tint. I had the front windows matched to the rear factory tint and they came out perfect. On top of a job well done the customer experience was incredible. They make you feel like a VIP and their scheduling process is a breeze. Will be a returning customer.
Thank you.

Steven King
Google Verified Review
Nick and the team tinted my 2019 Acura MDX and I can't be more happy. This is the second vehicle they have done for me, and it is just amazing.
Thank you so much!!
Services: Sun control window tinting, Privacy window films

Dave G
Google Verified Review
Performed window tint on my mustang and overall care and quality was excellent. Had a few bubbles form and they were more than happy to fix the issue. Great flexibility and good customer service.
Service: Vehicle window tinting

Simone Deyoung
Google Verified Review
First time using Buster's Custom.
Great service.
Detailed options for all price points delivered beforehand in a written proposal.
Impeccable service performed in a timely manner. I was so pleased with the outcome – I left another car there when I picked up the first one.
I highly recommend!